I've been working on reducing my beer gut lately, largely inspired by my crew at work, who decided to start a biggest loser 12 week challenge.  To make it interesting we all ponied up $25 and the winner takes all.  So far I think all I have lost is the opportunity to take the prize pool :/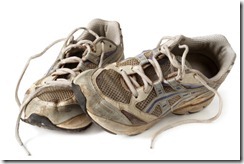 I have been doing the Couch to 5k program though, and Mollz has gotten back into running and is doing it with me.  Today was week 5, day 1.  we had a nice run in the forest park; there were quite a few trees blown over, and a heavy pine scent everywhere.
I'm also using the sportstracker app on my phone which measures your distance and speed etc by GPS.  Today's session was 3.45km in 27.02 mins.