Food is still going great, mostly primal, although tonight I had rice with veg & pork for dinner, but not too upset over that. I had some dark chocolate for dessert, which was good. A couple of cold left over home-kill sausages for brekksta. 3 scrambled eggs for lunch and a bowl of acidophilus yoghurt and berries just before karate class. Been drinking water or green tea instead of diet coke today – w00t!!
Went for a primal motorcycle ride today. The rest of the lads baled out citing dodgy looking weather and a good chance of rain. We were already in the motorcycling mindset and decided to go for a short pootle anyhow.
Off to Tirau, then Okoroire to Morrinsville, Tahuna, Ohinewai, Cambridge and home. Not bad for a short scoot, and very primal lolz.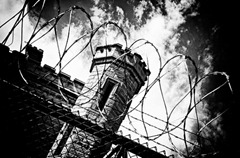 This morning one of the chooks decided to jailbreak and go visit the chooks at the neighbours a couple of houses down. Those neighbours were savvy though and kept her on remand until I arranged for extradition back to our place. Rate she's going she'll be lucky to dodge the gas (grill) chamber…
Karate class was good, with enough progress and some good feedback to keep the frustration at bay for the time being.
Tomorrow's meal plan involves a spatchcock chicken – but not the previously fugitive one.