First day off today and this morning, once again my wife points out that while I have lost a lot of fat, the fat that has gone from my left arm has left behind a rather flabby bicep. I was actually feeling kind of good about having done the LHT the day before, and so flexed my right bicep for her. I have to say while no Charles Atlas, I am kind of pleased with the way it is coming along. Today was to be a move slowly day, and she was to be having lunch with a friend of hers, but that got cancelled, and so we decided to go to lunch together.
I had the super scoff, which consists of 2 fried eggs, bacon (the english kind for you americans out there), black pudding, fried pieces of real potato and really thick toast. I left most of the potato and all of the toast on the plate. I also had a long black coffee, or what some people call a coffee americano, yeah, some people.
After that I decided we should leave the car parked where it was and wander down to the discount store and pick up some large recycled plastic pots, so that I could plant the chilli seedlings I bought last week. The seedlings have been quite happy on the kitchen counter, and I have been taking good care of them. The weather has gone quite windy and I don't think they would have made it if I planted them out now anyway.
Once I schlepped the pots back to the car and home, it was time to take the dog for his walk. I like walking in a forest park on the other side of town, where I used to enjoy doing the couch to 5k runs as well. so off we went.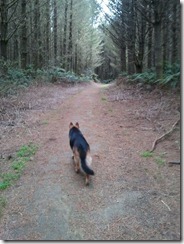 Here he is trotting off down the track. I was actually feeling very energised when we got there and vaulted over the gate with a spring in my step. Woohoo!
I have often thought that I should bring a bag or a backpack along and collect pine cones along the way, either for the open fire during winter, or the outdoor brazier during BBQs in the summer. All of the small backpacks we have at the moment are too good to get trashed on that task, so I will need to keep an eye out. for a cheapy somewhere along the way. Maybe the salvation army when I take all of my fat clothes down there.

Dog & I wandered along the trails and I was still wondering what to do about my flabby arms. Maybe my form is just terrible when I do the push ups? It doesn't feel like bad form. Maybe my form is terrible because of the fact that my left arm is so weak? Around this time I formed a small kernel of an idea.
I found a tree branch that would have been a little over a metre long, and that my hand would only wrap half way around. It was quite wet, and I estimated that it would be approximately 7 kg (15 lbs). It had a few smaller spiky branches sticking out of it.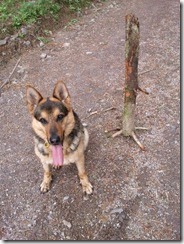 I decided that I would carry this stick for the rest of the walk. There needed to be rules for this carry though. This was inspired somewhat by a WOW Mark posted some time ago on MDA. The rules were relatively simple. Carry the stick any way I could, but only with the left hand, and walk at least 5 km. I did stop once, only long enough to remove my sweater, since I'd worked up a good sweat, and to take this picture. I completed the 5km and while the last km or so was getting quite difficult. At one point as I was holding one of the short sticks, with the stick over my shoulder, I wondered if anyone that saw me would wonder if I was playing at toy soldiers with a pretend bazooka on my shoulders. No sooner did the thought occur and I was just about ready to charge off into the undergrowth and assault a pretend bunker. A bit like 'Shogun' in Boy the Movie:

It would probably be a breach of some anti-terror law though. Full movie scene here:http://www.flicks.co.nz/trailer/boy/1847/#TB_inline?height=455&width=730&inlineId=moviePlayer
Go watch the movie, it's a crack up.
At the end of the walk, I stashed the branch by the start of the 5km section, hopefully out of the way of sniffing/pissing pooches, ready for use next time. Then I spent 20 minutes or so getting in some karate practice before class.
Karate class was good, and thankfully the warm up did not include a beasting on the press ups.
Dinner was steak and vegetables. Lovely.