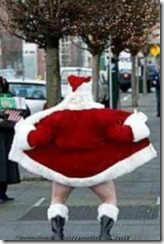 So I've been working night shifts for both xmas eve and Xmas day. The boss gave me a budget to get some food for my crew, and we used the BBQ. I had around 20 people to feed, and I think I did OK. We got a large piece of porterhouse and sliced our own steaks from it, a reasonable sized boneless ham, a rotisserie chicken, some additive free sausages a large tray of eggs, onions and salad makings. I almost fed 20 people primal by stealth, but in order to keep with cw traditions I also got some bread, garlic bread, juice & sodas, potato chips and chocolate biscuits. The guys generally agreed that it was the one of the best bbqs they have had and I made it in slightly under budget. As well we have enough left over to have a good sized lunch on Tuesday day shift.
Today, Christmas day I slept. We are going over to my parent's place tomorrow for the family time. This evening, I did my workout.
The wall press ups got interrupted by a phone call (I was at work, so had to answer)
So warm 10/10 work 20/50/50/50 progression standard easily. The knee tucks did better, I made the progression standard, but so far they don't feel as smooth/polished as the other exercises. Not to worry I did make the standard warm 10/10 work 40/40/40, so next push up/leg raise work out will be level 2.
I've been keeping up with the dynamic stretches every day too, and am adding in 10 minutes of meditation as well. Speaking of which, I shall now go and get in today's session.