It's been a little while since I posted an update, however I haven't been slacking (much) with everything else going on.  There was a fairly nasty winter virus going around that I was lucky enough to catch.  It laid me up to the point where I just stayed in bed for four days and was not good for very much at all for about 10 days either side of that.  I'm really good now though, thanks.
Dad had a bit of bad news around a month ago (for his birthday) which meant that he needed to have surgery fairly quickly.  He's at home recuperating now, and everything seems to have gone well.  He's just waiting on some more results to make sure it's fixed properly.
I've managed to get in a few more LHT workouts, and the diet (it doesn't feel like a diet) is working well.  Since July 9 I have lost 3.4 kg (7.5 lbs).  This is 0.4 kg (just under a pound) more than I had lost in the entire 12 week challenge at work, when there was money at stake and I was trying my darndest!
One thing that Mark Sisson has been advocating is the stand up workstation.  Then yesterday I saw that Steve Kamb had also posted about it in a very clear and compelling  manner, only a day after I was telling my wife that I needed to develop better hip mobility for a few of reasons:
I want to do better kicks at karate.

I know it will improve my aikido.

My dad has had arthritis in his hip for some time and I'd rather prevent it.
So I decided to tetris up my work station: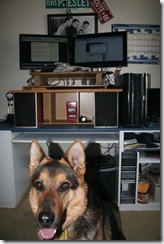 So there it is.  A little rough around the edges, and still with some stuff to put away.  If I decide I can't deal with it and want to go back to my chair I always can.  So far so good, and the dog likes it do much that he just had to get in the picture about it.  It makes him smile, see.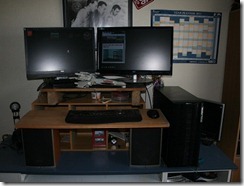 Here is a closer shot of the actual work station, pay no attention to the scuffed up X-wing, that is not the droid you're looking for.